Look at what other popcorn lovers are saying about Grubb's Premium Popping Corn!
Customer comments may take 1-2 days to post.
Received the popcorn as a gift initially, I find it to be more tender and tasty than most I have found in the grocery stores.
Ken Gable - Sachse, TX
Just received our order and we all love it! My granddaughters said it was the best she ever ate.
Mike Grubb - Ariton, Alabama
We just got some of your popcorn from your neighbor and my wife's brother, Mel.  It is great.  Our grandchildren love it.  We will buy some more.
Marvin - Indianola, Iowa
Great tasting popcorn, and pops up BIG!
The only problem was when the shipment arrived both bags were open. Both varieties all mixed together. Guess what? It's all good, and we love it.
Michael & Dee Dee - Springfield, Illinois
I'm sorry that the popcorn was open.  We are striving to fix the problem and will replace the bags you ordered.  Thank you for the comment on our page, it's the only way we hear if there is problems with our shipping.
Thanks again, Ginger Grubb
I just bought some! I can't wait to eat it!!! It's going to be great!!
Candice - Des Moines, Iowa
There just isn't any better popcorn.  Orville - you are just getting by on your tattered reputation!  Grubb Premium is way better.
In a popper, or microwaveable bag - it is the best we have ever tasted. Too bad we can't get it in St. Louis, but it might not be as good if it were produced in quantity large enough to sell it all over the country.
Popcorn is not the reason we make the drive now and then, but it would be worth the drive.
Bob and Rita - St. Louis, MO
I was lucky enough to stumble across your wonderful popcorn on Ebay. I've always liked popcorn since I was a child, My grandfather always grew it on his farm and popped it for us it was fantastic, Over the years I've eaten tons of microwave popcorn ,but I never had any as good as Grampa's, Yours is. From the first few bites It reminded me of my GrandPa he's been gone a long time but, I think of him every time I have your popcorn.
I thank you not only for your great popcorn, but for my trips back in time, they're both fantastic.
Stan Shannon - Covington, Georgia
I just tried the Grubb's microwave popcorn! Awesome! But, then I didn't expect anything less! Your popcorn is the best, amazing! Whenever I fix it, friends always comment about it and ask what kind it is? My favorite is the mushroom it makes the best carmel corn ever! Then again, the butterfly is great too! Now there's microwave popcorn too. Oh my, decisions, decisions. Well you can't go wrong with any of it! It's just the best ever!
Anita - Pleasantville, Iowa
Was lucky enough to find this popcorn at Whatcheer at the flea market. My husband who gave up eating popcorn years ago, is back to being a popcorn lover, now I have to share, darn! It it so good and so reasonably priced. Thank you!
Diane - Des Moines, Iowa
I love popcorn and have been eating it popped in a Presto popper with no seasoning or butter. This is far and above the best tasting and popping corn I have ever eaten and using my usual popping time and level on my microwave it comes out just perfect. I am giving a bag to all of my popcorn loving relatives and friends. If you love popcorn you simply must try it.
Harriet - New Sharon, Iowa
When I was a small child every Sunday night was popcorn night. We would sometimes have carmel corn as a treat. We would all sit in the living room and watch Walt Disney. This popcorn takes me back to wonderful fun filled memories. Thanks so much!
Debi - Pella, Iowa
Pops great on stove top whirly popper, only 2 unpopped kernels. Excellent volume 1/2 cup makes 6 quarts. Has a nice buttery flavor.
Greg - Carlsbad, California
As a family, we absolutely LOVE this popcorn! We have made it a few times using the Kettle Corn recipe found on this web site. Just this past weekend we were raving about it to our family and friends! The BEST popcorn ever! We won't eat any other brand ever again!
Mc Nally Family - Brighton, Colorado
Simply the BEST!  Thanx!!!!!
Martha - Knoxville, Iowa
I tried your popcorn a few weeks ago! A friend of mine brought it on a trip! All I can say is AMAZING!!!!!!!!!! There is no other popcorn that even comes close to GRUBBS!!!!!!! Hope to see it in stores in MD one day!!!!! I will definitely be a regular customer!
Stacey - Baltimore, MD
We love this popping corn.  I ordered some for us and when I was going to Florida for a vacation I had some sent there since it was so good.  We all loved it, I think we ate it every day.  One evening we had some left and left it in the bowl, the next day my friend tasted it and couldn't believe how good it was even the second day.  She said other popcorn she had she always threw away the next day but she said this was different was impressed how it stayed good.
Marilyn - Cedar Rapids, Iowa
I LOVE Grubb's Premium Popping Corn.  It is the BEST popcorn I've ever tasted!  I love to make caramel corn and kettle corn with it.  DELICIOUS!!  A handful of M & M's with it isn't too bad either!  Great job! 
Deanna - Knoxville, IA
Great tasting popcorn!  Can't beat it!
Connie, Altoona, IA
Just tried my first bag of mushroom popcorn and it is amazing; the flavor is great and the texture perfect. We had virtually no un-popped kernels left either. Great stuff!
Charlie Brown - Burke, VA
I especially love the mushroom popcorn which has a pleasing texture - you know you are eating something substantial, but never heavy. What a refreshing difference from the standard store popcorn. Outstanding freshness, and all the kernels pop. I make it on the stove using the pot in the picture - easy, quick, and a lot of popcorn from just a third of a cup. I highly recommend this popcorn - give it as gifts - your friends need to know how good it is!
Camie Quinton - Belle Mead, NJ
The best popcorn ever.  Great in the microwave and what a wonderful gift.  Give it for birthdays, house warming gift, or as a special thank you.  Try it... you'll like it!
Diane - Louisville, Colorado
Grubb popcorn is the very best popcorn grown in Iowa or the entire midwest.  There are no unpopped kernels and also no hulls.  (and I have false teeth so hulls and unpopped kernels are a problem to me.)  This popcorn has so much flavor and is so fresh, you just can't eat one bowl.
Marcia - Des Moines, Iowa
My family and I really enjoy Grubb's popcorn. It is delicious and we cannot get enough. Probably some of the best quality one can get.
Sara Yoder - West Liberty, Iowa
This popcorn takes me back home to the popcorn my uncle grew in the 50s. Mushroom variety pops large crunchy bites--so-o-o-o-o-o tasty.
Marcia - What Cheer
This is such a cool web site and so is the package the popcorn comes in. But the very best part is the popcorn itself which is delicious and a real treat anytime during the day or evening.  We also like the fact that it has no preservatives so we eat it often. We like to pop it on top of the stove but it also works great in the microwave.   Give it a try; we know you will really like it.  And while you are at the store buying some for yourself, pick up some for your family and friends. 
Another popcorn lover, Kathy Veenstra - Pella, Iowa
Large, plump popped kernels, virtually every kernel popped! We bought popcorn at a sporting event, and were so disappointed.  It just didn't compare to Grubb popcorn!
Jan - Mingo, Iowa
My family loves popcorn, and Grubb popcorn tastes so crisp and fresh we LOVE IT! Give it a try and taste the difference.
Customer - Mingo, Iowa
I absolutely love Grubb's popping corn.  I NEVER have any unpopped kernels and I love how the popcorn pops up so large and fluffy.   Thanks Bill and Ginger!
Faith - West Des Moines, Iowa
This is the best popcorn EVER!!!!!!!  My favorite is the mushroom variety - so nice and big!!!!  You won't go wrong giving Grubb Popcorn a try.
Mary Kay
This is the best tasting popcorn we have ever tried.  Pops great and tastes even better! Yum. We use a popper similar to the one shown here.  One of our families favorite snacks. We love Grubb's!
Renee - New Sharon, Iowa
After receiving two bags of Grubb's popping corn for Christmas my family and I haven't stopped eating it . It is absolutely the best popcorn I have ever had. It comes in two varieties. My favorite if the butterfly variety as it is very light and fluffy. My daughter prefers the mushroom type which has more chewiness. I was told you could mix both varieties together but I haven't tried doing it yet. Making my own popcorn is fun and easy and I know there are no preservatives and chemicals in it like in the microwave bags. I would recommend Grubb's popcorn to anyone looking for a real treat. The packaging is also really beautiful and makes a great gift.
Popcorn lover - Brooklyn N. Y.
Let us know why you love Grubb's Premium Popping Corn.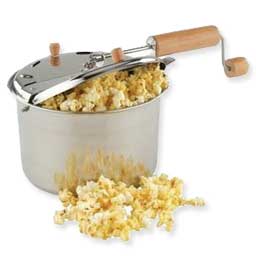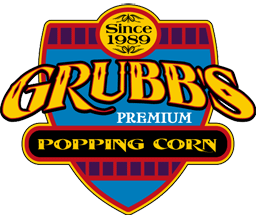 Grubb's Premium Popping Corn
3175 150th St.
Barnes City, IA 50027
Phone: (641) 644-5256
Email: GPop@GrubbPopcorn.com